What's New Updated 10/09/99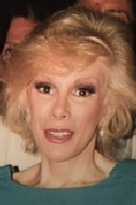 History
What is behind this vendetta that Joan Rivers has against Gillian Anderson, you ask? Well, it all began two years ago at the 1996 Emmy Awards when Joan briefly interviewed Gillian. From there on, it snowballed into what it is today. Read all about it here.
Her Kind of Fame

  Joan Rivers is famous, all right. But who on Earth would want to have her kind of fame? She's famous for her rude, crude, and insensitive type of "humor". She makes inappropriate comments all the time. Joan has also shown time and time again that is she is bright as Alaska in December. She just can't get her facts straight on anything! And, finally, her reputation shows that there is little respect for her brand of humor, or for her type of fame.  
Gallery 
Where does Joan Rivers get off judging people for the clothes they wear to awards shows?! Take a look at the Ewww Gallery and leave baffled at how Joan Rivers ever qualified to be a fashion critic. Also, view images of Gillian in the Gillian Awards Shows Gallery. Hmm...Joan, Gillian, Joan, Gillian...big decision there, right? (**Snicker, snicker**)
News | History | Rude Joan | Dumb Joan | Hated Joan | Gallery
Feedback
This site is maintained by Me. This site has been made to inform people, not to advocate any harm whatsoever upon Ms. Rivers.